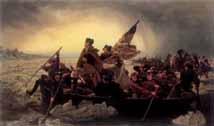 Once again strong winds and swift currents prohibited re-enactors from following General George Washington's route across the Delaware River from Pennsylvania to Trenton, NJ.
For 56 years the General's daring Christmas crossing to attack the Hessians at Trenton has been a well attended Holiday tradition.
This year, as last, River conditions made it unsafe for the re-enactors from rowing across the Delaware, so they walked the bridge in Washington's Crossing State Park.
There were 130 re enactors, putting on the show for some 12,000 spectators.
Today, Friday December 26th begins what's become known as 'Patriots' Week' in Trenton. Bus tours of the routes used by the Revolutionary Army to attack Trenton are available, as well as readings and historic tours are on tap.
It's a great way to learn about the crucial roll New Jersey and Pennsylvania played in the War for Independence. See you there!
Keller Williams
Atlantic Shore
Laura Giannotta
609-384-6121